Yoshino Cherry is one of the major cherry blossom tree types in Japan, and can be seen all over the country—lining streets, in parks and at schools. The flowering forecast for cherry blossoms by JMC is also based on this type of tree.
On average, flowering starts around mid-March in early locations, and at the end of April to the beginning of May in Hokkaido, where flowering dates are the latest. The flower petals are a pale pink color and bloom before leaves appear on the tree, creating a beautiful sight at full bloom with no green leaves to be seen.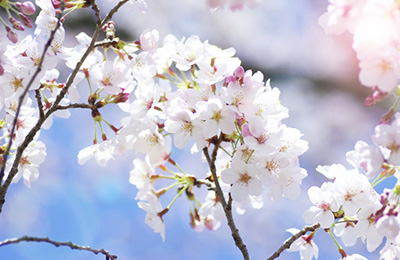 Yoshino Cherry
Yoshino Cherries are garden trees created by crossbreeding wild cherry trees (Oshima Cherry and Edo-higan), and all Yoshino trees in existence today are clones created from grafting or cuttings from the original tree.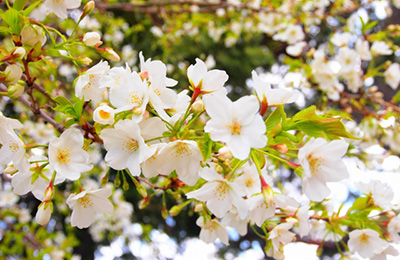 Oshima Cherry / The wild cherry tree breed that gave birth to the Yoshino Cherry
The Yoshino Cherry can be seen from Hokkaido to Kyushu, but not in areas with subtropical climates south of Kagoshima Prefecture, as the winter temperatures do not become cold enough for blooming (10°C or lower). For this reason, there are no Yoshino Cherry trees in Okinawa Prefecture; instead, Taiwan Cherry trees (Winter Cherry trees) fit for subtropical zones are popular. These trees usually bloom in January. What is more, as some regions in Hokkaido experience severe cold during the winter, making Yoshino Cherry tree cultivation difficult, Sargent's Cherry trees (or North Japanese Hill Cherry), which are more resistant to cold weather are often planted as roadside trees. The blooming season for Sargent's Cherry trees is usually around May.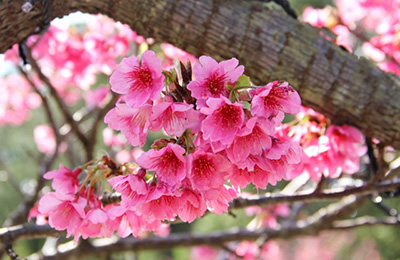 Taiwan Cherry trees (Winter Cherry trees)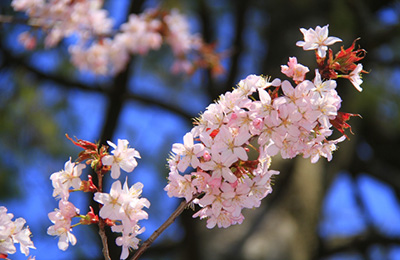 Sargent's Cherry trees